New Dawn New Day Limited is a Charitable Company. This means it is a Company Limited by Guarantee as well as a registered Charity. Its Trustees are both Trustees of the Charity and Directors of the Company and they oversee the work of the organisation. Being a charity trustee and company director is an important role. Trustees are individually and collectively responsible for the running and management of the organisation.
Current Opportunity - Trustee - Fundraising Lead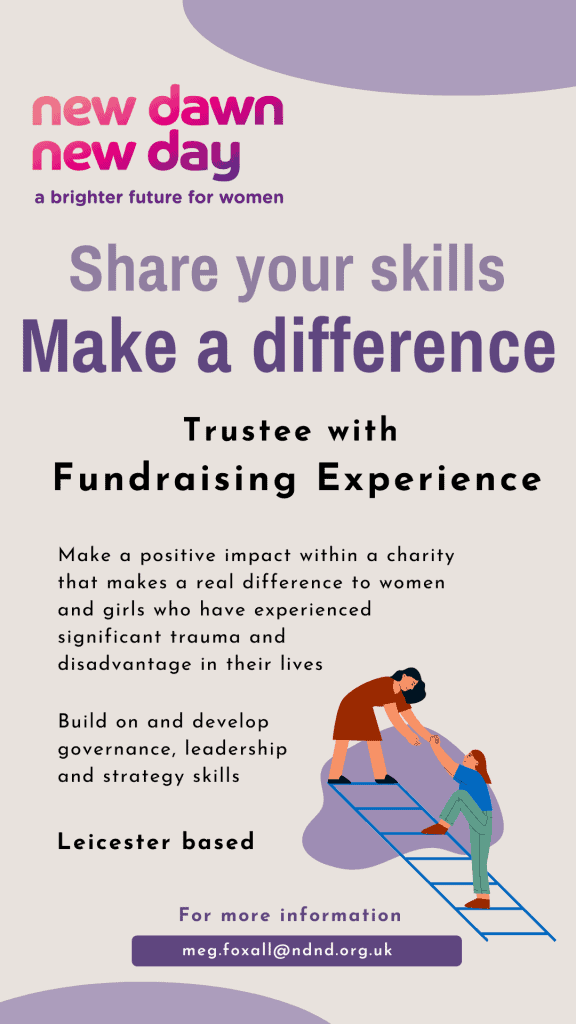 We're looking for an enthusiastic and talented individual with fundraising knowledge and expertise to join our Board of Trustees to help shape and deliver effective governance of the charity and to oversee implementation of our Strategic Programme. We want to expand the services we offer and as a trustee you will bring fresh perspectives, ideas and skills to help achieve our goals.
Download our Trustee Pack for further information about this opportunity
If you are interested in applying for this trustee position, please email our Business Support Manager, Meg Foxall at meg.foxall@ndnd.org.uk. If you have any initial questions regarding our current fundraising activities you can contact Meg for an informal chat on 07745 334793.
At New Dawn New Day Ltd, our Trustees' role is very much one of "governance" in that they are not directly involved in the day-to-day running of the organisation. They do, however, need to ensure the organisation is governed effectively. Put simply, this means we need to ensure the organisation operates within the law (including charity and company law), and that we fulfill any contractual and statutory obligations the organisation has including funding contracts. The Trustees also have responsibility for agreeing the strategic direction of the organisation, namely a shared idea about what difference the organisation wants to make in the community and what its main areas of work for the future are.
Some Trustees who have a particular interest or expertise in some of the projects and services delivered may want to take a direct advisory and support role for that area of work and we find this to be very useful. However, there is no expectation for a Trustee to be involved outside their main role on the Board.
Trustees of a Charity have the following general collective duties:
We are looking for Trustees to help take New Dawn New Day Ltd into the next phase of its development. We need Trustees who are positive and committed to the principle of developing services for women and girls who feel they can help us develop and oversee the implementation of our strategic plan.
In particular we are looking to recruit Trustees who have skills and experience in the following:
It is important that Trustees act with integrity and commitment, and with an understanding of the responsibilities of charity trusteeship. Trustees are required to attend as many meetings as possible and to undertake some tasks between meetings. Trustees should have strategic vision, good independent judgement, the ability to think creatively, a willingness to speak their minds, and ability to work effectively as a member of a team.
We welcome expressions of applications from anyone who can bring some of the above characteristics, including candidates where there is currently under-representation such as those of black/minority ethnic origin. New members will be receive induction training supported from the Chair and other committee members.
Becoming a Director / Trustee will not only give you the chance to be a part of the development of the organisation, it will give you experience of governance and operating at a strategic level. It will also enable you to make a real difference to the lives of women and girls.
Please contact us for further information