Working at New Dawn New Day offers challenges and rewards. We are a small team of skilled, experienced and resilient staff who are passionate about making a difference for women and girls. The work can be challenging, demanding and at times frustrating but our supportive environment coupled with opportunities for personal and professional development make it a great place to work.
The kind of roles we have at New Dawn New Day include:
We offer student placements for anyone on a relevant course of study including
If you are interested in a student placement with us please contact us for further information and discuss this with your training provider to ensure a placement with us would meet the requirement of your course study.
Because the women we work with have multiple and complex needs, no single service or organisation can meet all of their needs.
We are committed to collaboration and partnership working with other agencies to deliver the best possible opportunities and outcomes for women and girls and to remove barriers to accessing the support they need.
Partnerships between statutory, private, social enterprise and other voluntary organisations enable us to provide co-ordinated and integrated services as well as innovative solutions and women benefit greatly from being able to access partner agencies' specialist knowledge and care.
We have some excellent local partnerships and can offer opportunities for on-site delivery and, where possible, co-location of staff from our women's centre in Leicester.
We are also interested in forming wider strategic partnerships to support service and system transformation and working together to secure resources and new business to support our clients.
As a delivery partner, New Dawn New Day offers:
We work with partner agencies that:
If your organisation is interested in partnering with New Dawn New Day the please contact our Chief Executive for conversation.
We currently have the following vacancies available. Please feel free to get in touch if you require any more details, and we will be more than happy to help.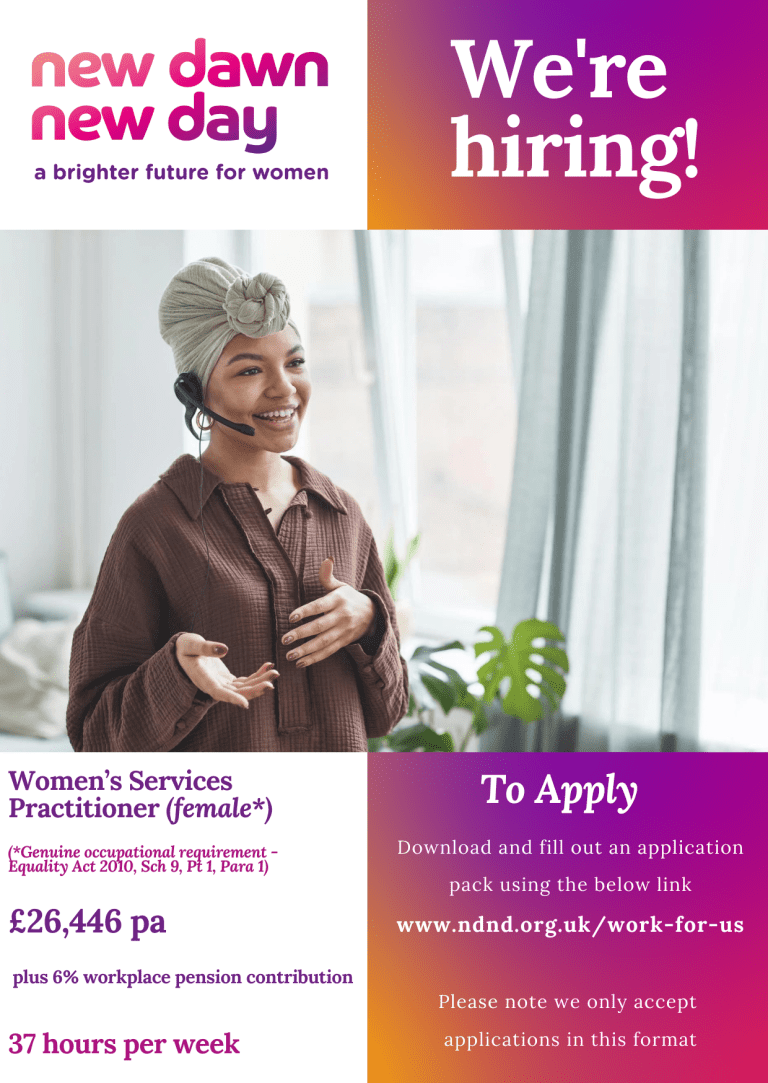 Women's Services Practitioner
We are seeking applications from experienced practitioners to deliver a range of support interventions to women who are in contact with the criminal justice system and referred to New Dawn New Day as part of a community sentence or on release from prison.
This will be an interesting and varied post with the postholder working as part of a small team offering support on both a one-to-one and group basis. The approach is holistic, relational, gender responsive and trauma informed. 
To apply and for more information, please download an Application Pack and Application Form. Please email completed forms to meg.foxall@ndnd.org.uk
Please note that we do not accept applications in any other format, such as CVs. We apologise that we cannot accept forms which are missing details and are not completely filled out. If you have any difficulty in downloading the Application Pack or Form, please contact us on the email address above.